Cheap cold towels to the streets
Recently when the road we could easily catch people selling roadside wipes, table hung with super cheap price, only from 10000-20000 at the 1 hopkhan cold.
Many customers cheap ham, also by means of the road may need a wet towel to clean up these products still exist from the point of sale sidewalk in Ho Chi Minh City. Mainly
middle schools in the area, markets, industrial parks or other busy roads.
The fact that so many cases using a tissue at the curb shoddy suffer from disabilities brought money lost because of cheap ham. In not a few of the children have to suffer the consequences
The most serious, because allergic inflammation due to this cold towels.
Nguyen Thi Hau, indicating that the District 12 bus routes in Le Van Tho - Quang Trung Street, Go Vap District, she can buy one bag of wet towels for $ 15,000 sidewalk as needed
baby using the toilet. But just a few hours after the bus home, changing diapers when she discovered the child is well-filled baby's butt rash. Suspected to be due to a tissue bag
buy at roadside wet so she tried to use his hands, was indeed similar symptoms. So no doubt from which she did not dare buy a wet towel curb
and also advised the people to never buy it again cloths.
Dr. Vo Thi Bach Suong - Specialist Dermatology, Medical University of Ho Chi Minh City said: The wet cloths on the market are impregnated with preservatives to increase usage time, creating
moisture and odor while keeping towels in the bag. Not to mention when sold in outdoor conditions is direct sunlight impact on changing, metamorphic chemical composition. So the life of
reduce towel, towel quality assurance should not use skin allergy problems are inevitable. Especially when those babies sensitive skin also.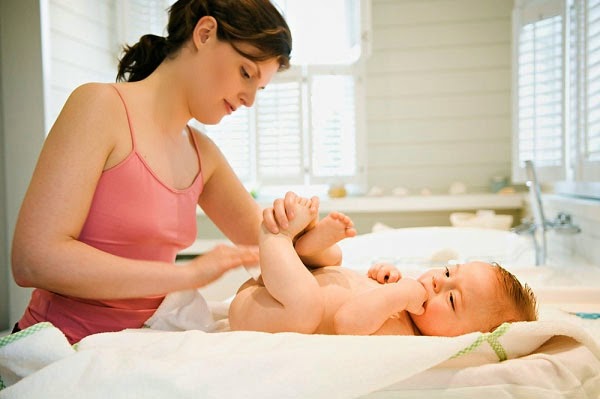 According to Dr. Pham Thanh Quan, Dean of University City said this does not have any regulations regarding quality control for this product line. there
Does just announced certification of quality for manufacturing enterprises wet paper towel. So consumers should consider choosing the best products
efficiency or switch to non-woven cloth made from natural. To protect children and their families themselves!